News
February 2021: Majestic looks forward to cinema reopening in mid-2021
Though the Majestic Theater remains temporarily closed due to the COVID-19 pandemic, theater staff are working toward safely reopening the cinemas in mid-2021. Founding Executive Director Jeffrey Gabel recently wrote about the theater's reopening plans and optimistic outlook for the future for the Gettysburg Times' annual Progress edition. Read his full article by clicking here.
October 2020: Majestic celebrates 95th birthday with crowdfunding campaign
Even though the Majestic has been closed since March due to the pandemic, it has been emboldened to launch an on-line fundraising campaign because the theater received a spectacular birthday gift. The J. William Warehime Foundation of Hanover, PA has awarded the Majestic a $100,000 matching grant to start a dedicated endowment fund for the continuous upgrading of its theatrical equipment. Read more by clicking here.
May 2020: Majestic Theater closed due to pandemic
Gettysburg College's Majestic Theater has announced all public events at the theater are canceled until further notice. Additionally, the Majestic Theater facility remains closed to the public until further notice. This action is taken as a result of the ongoing stay-at-home order, business closures and disease control measures mandated by the Commonwealth of Pennsylvania to combat the spread of COVID-19/coronavirus. When possible, some canceled live events will be rescheduled. For more information click here.
February 2020: 40th annual Martin Luther King, Jr. Celebration uplifts the power of words
The Majestic Theater hosted composer and pianist Damien Sneed's "We Shall Overcome: A Celebration of Dr. Martin Luther King, Jr." on Jan. 25 as the event's headliner. This musical performance showcased selections of African-American music traditions, as well as interwoven spoken word from King's recorded speeches. Read more about this event made possible through a partnership with College and community partners by clicking here.
July 2019: Gettysburg cinema majestically strong in streaming age
With the perfect balance of contemporary and nostalgia, the Majestic Theater in down-town Gettysburg stands as a beacon in the community and prides itself in being "the grandest small town theater in the US." Read more from the July 13 edition of the Gettysburg Times by clicking here.
May 2019: Majestic cinemas undergo renovation
The two cinemas at Gettysburg College's Majestic Theater will undergo a renovation to refresh walls and carpeting during the month of May. Additional spaces in the lobbies and art gallery will undergo updates during this time also as part of the Majestic's goal to continue providing a high-quality and welcoming experience to patrons in Gettysburg and Adams County.
The Majestic Theater will continue to be open to the public daily throughout the project. However, each cinema will close for a period of time throughout the month to allow work to proceed as quickly as possible. As a result, throughout May one film per week will be shown at the Majestic twice daily, rather than the more typical schedule of two films per week.
"The carpeting in Cinema One is looking pretty tired because of the increase in movie attendance over the years," said Jeffrey Gabel, Founding Executive Director of the Majestic Theater. "When the cinemas opened in January of 2006, we were selling about 9,600 tickets a year because no one was showing independent films. Attendance has skyrocketed since we upgraded to digital projection and introduced new programming such as National Theatre HD from London and Great Art on Screen. Attendance last year was over 25,600."
At the project's conclusion, each cinema will sport new fabric walls and carpeting. New fabric walls are also planned in the Majestic Theater art gallery, and fresh floor treatments to better handle high foot traffic at the Box Office and cinema concession stand will be installed.
September 2018: Majestic Theater Launches Centennial Endowment Name a Seat Campaign
The Majestic Theater has launched a campaign to name seats in the main auditorium in support of the Majestic Theater Centennial Endowment Campaign, offering the general public an opportunity to help the campaign reach its $1 million cash goal by the end of 2018. Read more about getting involved here.
April 2018: History and performance come together at theater conference
Gettysburg's Majestic Theater hosted the spring regional conference of the League of Historic American Theatres (LHAT) in April 2018, in the process welcoming more than 80 performing arts professionals from theaters of all sizes. Speakers included experts from Broadway and Disney Theatrical Group, as well as Jeffrey Gabel, Founding Executive Director of the Majestic Theater. Read more...
March 2018: Majestic Theater hosts regional theater conference, April 10-11
Gettysburg College's Majestic Theater will welcome dozens of theater managers as host of a regional professional development conference presented by the League of Historic American Theatres (LHAT), April 10-11, 2018.
During the two-day event, attendees will participate in a broad range of interactive, educational sessions on topics including historic preservation and restoration, fundraising, audience security, marketing, film presentation, and concessions. Read more
January 2018: 'The Show Must Go On'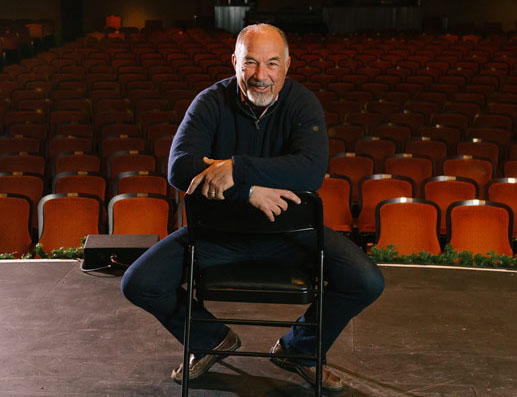 David LeVan '68 wasn't unlike many other children. He would sprint to the outskirts of his family's lawn in Gettysburg, adorned in his favorite—albeit oversized—cowboy hat, and dream of his moment to save the day.
Loyalty, honor, and a steady hand in times of uncertainty—these were the attributes that defined his silver screen heroes, icons like John Wayne and Gary Cooper who lifted his spirit and captivated the imagination of friends and neighbors at the Majestic Theater. Read more about LeVan's lifelong support of the Majestic
February 2015: 'Adams community remembers 'extraordinary' Jennifer LeVan'
LeVan devoted herself to a wide spectrum of efforts from the renovation of the Majestic Theater and historic Lincoln train station in downtown Gettysburg to aiding children, honoring veterans, and supporting the Society for the Prevention of Cruelty to Animals. Read more
2015: The Majestic Theater is turning 90! Enjoy this insiders look at the Majestic Theater!
Thank you to Gettysburg Insider and Oasis Television Productions, Inc. (Oasis produces Gettysburg Insider)
August 2013: Majestic Executive Elected Vice President of National Historic Theatre Board
Jeffrey W. Gabel, Founding Executive Director of Gettysburg College's Majestic Theater, has been elected to serve as vice president of the board of directors of the League of Historic American Theatres starting in January 2014. Read more
May 2013: Gettysburg College's Majestic Theater dedicates the John R. White Memorial Cinemas
On Tuesday, May 21st at 4 p.m., more than 80 invited guests gathered at the Majestic Theater for the dedication of the John R. White Memorial Cinemas which include the performing art center's two cinemas which show first run independent films. Read more
January 2013: Majestic Theater Tops Digital Cinema Campaign Goal
Gettysburg College's Majestic Theater proudly announced today their "Save Our Downtown Movies" campaign has raised $161,703 which exceeds its $150,000 goal to convert its two cinemas to digital projection. The U.S. movie industry is abandoning 35mm film production after more than 100 years in favor of high tech digital cinema. By summer 2013, all cinemas in America must be converted to digital or go out of business. Read more
December 2011: Good Friends Gabel and LeGros Create Shared Legacy
When Jean and Jeffrey met at the Majestic Theater to talk with us about their gift, there was trumpet practice sounding from off-stage. "Never a dull moment here," said Jean LeGros '73. "That's why we built it!" quipped Jeffrey Gabel in response, noting that a typical day includes thirteen hours of active use of the facility. While working for Gettysburg College, LeGros found joy in raising funds to transform the historic Majestic Theater into a state-of-the-art performance venue, a highlight of her thirty years of work for the College. Eight years ago, Jean was among the first to welcome Jeffrey to the community after he was named Founding Executive Director of the Theater. Gabel's response? "I can tell we are going to be great colleagues and friends." Today, these friends have come together to create the Jean LeGros and Jeffrey Gabel Endowment for Family Programming at the Majestic Theater, to be fully funded with gifts from their estates.
June 2011: Gabel confirmed by Senate for PA Council of the Arts
On June 14, 2011, Governor Tom Corbett announced that the Pennsylvania Senate had confirmed his appointment of Jeffrey W. Gabel to serve on the Pennsylvania Council of the Arts (PCA), a state agency in the Office of the Governor since 1966 that fosters the excellence, diversity, and vitality of the arts in Pennsylvania. Gabel is the founding executive director of the historic Majestic Theater in downtown Gettysburg that is owned and operated by Gettysburg College as a cultural treasure for its students and the Greater Adams County community
January 2011: Majestic Executive Elected to National Historic Theatre Board
Jeffrey Gabel, Founding Executive Director of the Majestic Theater, has been elected to serve a three year term on the board of directors of The League of Historic American Theatres which begins in January 2011. The election took place on July 16th, 2010 at the League's 34th annual conference and theatre tour in San Antonio, TX
April 2006: Majestic Theater Named for the LeVans
April 13, 2006 - In honor of the largest personal financial gift to the restoration of the Majestic Theater, the complex has been named for Jennifer and David LeVan. The family donated over $1 million, helping to obtain the needed $8.5 million in grants from the state to complete the project.

With only $250,000 left to raise, the stainless steel lettering under the marquee reads, "The Jennifer and David LeVan Performing Arts Center." More than 500 companies and individuals have donated to the project, which was completed in November of 2005.