News
July 2023: Majestic Theater Discontinues Met Opera Live in HD Series
Gettysburg College's Majestic Theater announced this week it will not present the Metropolitan Opera's 2023-2024 live telecasts in its historic theater. The reason for the cancellation is declining attendance.
"This business decision makes me really sad because I love opera and have attended the Met many times at Lincoln Center," lamented Jeffrey Gabel, the Majestic's founding executive director. "Unfortunately, the Met's opera audience at the Majestic has slowly declined from a season high of 1,371 in 2011-2012 to 365 in 2021-2022. In the early years, we'd average 125 patrons at every telecast, and now its often less than 30. Our ticket sales no longer cover our out-of-pocket business expenses including satellite fees, utilities and staff."
Gabel attributes a plethora of challenges for the declining opera attendance at the theater which includes the recently introduced Met Opera On-Demand Home streaming service, free PBS telecasts, and lingering post-COVID personal health concerns for older patrons. The Majestic will continue present the National Theatre Live productions from London, as well as Great Art on Screen documentaries, which remain very popular.
June 2023: Royalty Reigns during the 2023-2024 Majestic Theater Celebrity Season
Kings and queens of music, dance, comedy and theater will reign at Gettysburg College's Majestic Theatre during the 2023-2024 Celebrity Season, kicking off this summer with a lineup of world-class musicians. The distinctive season lineup includes singer-songwriters, classic rock and country, jazz and chamber music, comedy, theater, bagpipes, dancing queens, and the rulers of the pre-historic era – dinosaurs! Tickets go on sale to the general public on Friday, June 23. Majestic members can access ticket pre-sales starting Wednesday, June 21. For more information and the full schedule click here.
May 2023: Majestic Theater's 2023 Summer Classic Movies begin June 7
Gettysburg College's Majestic Theater will celebrate film favorites old and new when the annual Summer Classic Movie series kicks off June 7 at 7:30 p.m. in the historic 1925 auditorium. Enjoy classic movies in the beautifully restored historic theater every Wednesday night through August 23. Tickets for each film are just $8 and are on sale now. For the full schedule read more here.
February 2023: Jeffrey Gabel to retire from Majestic Theater in January 2024
Jeffrey Gabel, the founding executive director of Gettysburg College's Majestic Theater, announced today (Feb. 27) that he will retire in early January 2024 after 20 years of dedicated service.
"It has been a privilege and pleasure to build 'the grandest small-town theater in America,' which has been so generously supported by the college and the community," said Gabel. "Twenty years is a long run in show business, and my time at the Majestic has been the most gratifying period of my career. Having an opportunity to help shape this important college and community resource has been incredibly rewarding and a lot of fun! After nearly 40 years in the entertainment business, I'm looking forward to attending shows and movies at the Majestic as a carefree patron."
"Jeffrey represents the very best of our community," said Gettysburg College President Bob Iuliano. "His collaboration, his charisma, and his deep commitment to the arts have helped to build the Majestic Theater into all that it is today. Indeed, Jeffrey's impact over the last two decades, reflected so vividly with a first-of-its-kind film festival this February, will undoubtedly be felt by Gettysburgians for decades to come. We wish him a joyous and well-deserved retirement."
Gabel joined the Gettysburg College administration in 2003 to lead the theater's $16.5 million renovation that meticulously restored the 1925 vaudeville and silent movie theater and added a cinema wing with two theaters, an art gallery, café and backstage production wing.
In addition to programming more than 300 concerts by professional artists; raising $21.7 million in community support and establishing a $5.9 million endowment for programming support, Gabel counts producing the recent Ken Burns Film Festival—which drew sold-out audiences from 28 states across the country—among his most important accomplishments. Gabel also serves at the vice chair of the Pennsylvania Council on the Arts, and is board member emeritus and past board chair of the League of Historic American Theatres.
Gettysburg College will launch a national search for a new executive director in the spring of 2023. The Majestic Theater at the LeVan Performing Arts Center in downtown Gettysburg is open year-round and presents a diverse lineup of more than 50 live performances by national and international performing artists, as well as a nightly lineup of independent, foreign and classic films. The Majestic also serves as the rehearsal and performance venue for the major instrumental ensembles of the Sunderman Conservatory of Music at Gettysburg College.
February 2023: Who Are We?: A Festival Celebrating the Films of Ken Burns kicks off Feb. 10
Ken Burns comes to Gettysburg for the first ever festival dedicated solely to his work on February 10-12, 2023. More than a career retrospective, festival goers will engage with Burns, his collaborators, historians, and students in consequential conversations about the simple question Burns has explored in all his films: Who Are We? Burns will speak to Gettysburg College students before the festival begins on Friday, and will then headline three special live festival events. Other speakers and experts featured throughout the weekend include Jay Ungar, Molly Mason, Jacqueline Schwab, Geoffrey Ward, Kevin RIchardson, Alisha Sanders, Tracie Potts and Susan Eisenhower. For a full schedule of the weekend's events click here.
April 2021: Majestic Theater Equipment Endowment Campaign tops $300,000
Thanks to the visionary philanthropy of the J. William Warehime Foundation of Hanover, PA and the generosity of over 125 donors, Gettysburg College's Majestic Theater has successfully raised $318,000 to establish a dedicated endowment fund for the continuous upgrading and repair of its theatrical equipment. Read the full campaign report by clicking here.
October 2020: Majestic celebrates 95th birthday with crowdfunding campaign
Even though the Majestic has been closed since March due to the pandemic, it has been emboldened to launch an on-line fundraising campaign because the theater received a spectacular birthday gift. The J. William Warehime Foundation of Hanover, PA has awarded the Majestic a $100,000 matching grant to start a dedicated endowment fund for the continuous upgrading of its theatrical equipment. Read more by clicking here.
September 2018: Majestic Theater Launches Centennial Endowment Name a Seat Campaign
The Majestic Theater has launched a campaign to name seats in the main auditorium in support of the Majestic Theater Centennial Endowment Campaign, offering the general public an opportunity to help the campaign reach its $1 million cash goal by the end of 2018. Read more about getting involved here.
January 2018: 'The Show Must Go On'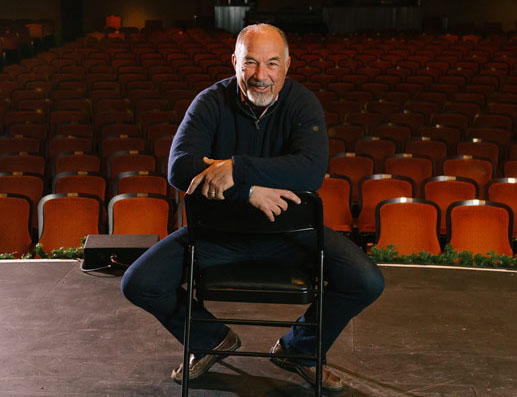 David LeVan '68 wasn't unlike many other children. He would sprint to the outskirts of his family's lawn in Gettysburg, adorned in his favorite—albeit oversized—cowboy hat, and dream of his moment to save the day.
Loyalty, honor, and a steady hand in times of uncertainty—these were the attributes that defined his silver screen heroes, icons like John Wayne and Gary Cooper who lifted his spirit and captivated the imagination of friends and neighbors at the Majestic Theater. Read more about LeVan's lifelong support of the Majestic
May 2013: Gettysburg College's Majestic Theater dedicates the John R. White Memorial Cinemas
On Tuesday, May 21st at 4 p.m., more than 80 invited guests gathered at the Majestic Theater for the dedication of the John R. White Memorial Cinemas which include the performing art center's two cinemas which show first run independent films. Read more
January 2013: Majestic Theater Tops Digital Cinema Campaign Goal
Gettysburg College's Majestic Theater proudly announced today their "Save Our Downtown Movies" campaign has raised $161,703 which exceeds its $150,000 goal to convert its two cinemas to digital projection. The U.S. movie industry is abandoning 35mm film production after more than 100 years in favor of high tech digital cinema. By summer 2013, all cinemas in America must be converted to digital or go out of business. Read more
April 2006: Majestic Theater Named for the LeVans
April 13, 2006 - In honor of the largest personal financial gift to the restoration of the Majestic Theater, the complex has been named for Jennifer and David LeVan. The family donated over $1 million, helping to obtain the needed $8.5 million in grants from the state to complete the project.

With only $250,000 left to raise, the stainless steel lettering under the marquee reads, "The Jennifer and David LeVan Performing Arts Center." More than 500 companies and individuals have donated to the project, which was completed in November of 2005.